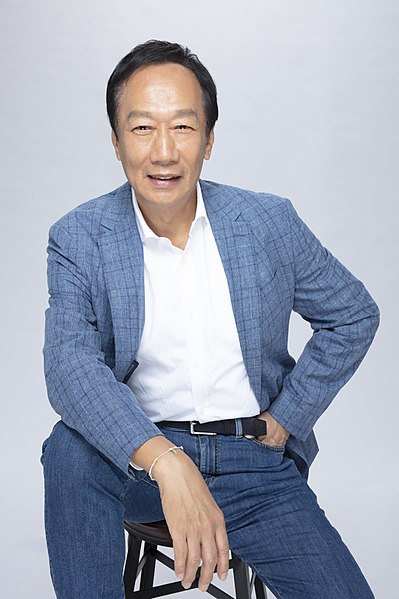 Terry Gou, a 72-year-old billionaire and the founder of Foxconn, the manufacturer behind iPhones, has entered the race for Taiwan's presidency.
Mr. Gou's story is one of a charismatic entrepreneur who rose from humble beginnings to amass significant wealth and recognition. With substantial financial resources and widespread name recognition, some in Taipei believe that if he were the sole contender against the ruling Democratic Progressive Party (DPP), he would stand a good chance. However, this is not the case.
Instead, his candidacy will divide the opposition vote threefold in the upcoming January 2024 presidential election.
In a winner-takes-all presidential system, when two opposition candidates are already vying to unseat the incumbent party, introducing a third candidate likely complicates the endeavor.
This scenario aligns with the classic concept of the "law of holes," which suggests that when you find yourself in a hole, the first step is to stop digging. Taiwan's opposition appears to be undermining its electoral prospects.
This was evident when Mr. Gou declared his candidacy, a move that carries profound implications beyond Taiwan. The self-governed island is set to elect a new president amidst escalating threats from Beijing and an increasingly militarized region.
Much like another influential business figure across the Pacific, Mr. Gou initially sought to position himself as the candidate for Taiwan's primary right-of-center party, the Kuomintang (KMT). In contrast to the United States, he did not succeed.
The KMT opted for another candidate, prompting Mr. Gou's departure from the party in frustration. However, the KMT is not his sole challenge.
Opinion polls indicate that most Taiwanese do not hold their government responsible for growing tensions with Beijing Taiwan features another opposition party, the Taiwan People's Party (TPP), led by Ko Wen-je, another charismatic populist. Ko Wen-je, the former mayor of Taipei city, currently ranks second in polls and enjoys strong support from younger Taiwanese voters.
Mr. Gou's appeal extends beyond his wealth and business accomplishments. His experience collaborating with and operating in China is a significant factor.
Foxconn, or Hon Hai Industries, emerged as the world's largest electronics manufacturer by pioneering the integration of Taiwanese technical expertise with skilled Chinese labor. In the 1980s and 90s, Mr. Gou established massive manufacturing centers in southern China and recruited tens of thousands of young Chinese workers.
This model's success led Apple to entrust much of its MacBook and iPhone manufacturing to Foxconn. This propelled Foxconn to become Taiwan's largest company and Mr. Gou one of its most affluent entrepreneurs.
Now, Mr. Gou asserts that his expertise in investing and conducting business in China equips him to safeguard Taiwan's security. His ambition is to prevent Taiwan from "becoming another Ukraine." Unveiling his candidacy, he declared his intent to steer Taiwan "away from the precipice of conflict with China."
He is not alone in recognizing the escalating threat posed by China. Over the past year, Beijing has significantly escalated its military operations around the island.
Last week, the People's Liberation Army released a meticulously crafted propaganda video depicting Chinese troops practicing for what appeared to be an invasion of Taiwan's shores. Photo by 江博云, Wikimedia commons.