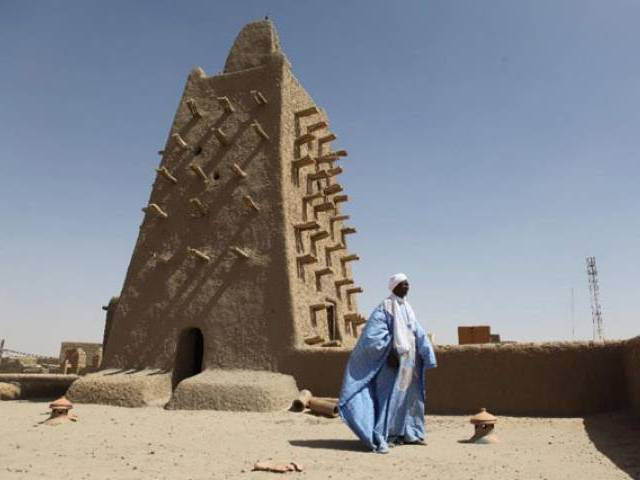 Mali's fabled city of Timbuktu on Thursday celebrated the recovery of its historic mausoleums, destroyed during an Islamist takeover of northern Mali in 2012 and rebuilt thanks to UN cultural agency UNESCO.
The dusty desert city formally received the keys to the precious shrines to Muslim saints dating back to medieval times at a ceremony consecrating their return that was held in the legendary Djingareyber mosque.
Al-Qaeda-linked insurgents wrecked 14 of the city's iconic earthen shrines built during Timbuktu's 15th and 16th century golden age as an economic, intellectual and spiritual centre.
To mark their reconstruction, five heads of cattle were ritually sacrificed just after dawn, ahead of a reading of the entire Muslim holy book the Koran and the handing of the keys to the families in charge of their care.
"This day celebrates the remarkable and courageous work accomplished to recover your dignity," UNESCO's Lazare Eloundou told the officials, diplomats and religious and traditional dignitaries attending the ceremony.
UNESCO has listed the city as a world heritage site in danger due to "its important role of commercial, spiritual and cultural centre on the southern trans-Saharan trading route, and its traditional characteristic construction techniques."
Islamist fighters destroyed the centuries-old shrines after seizing the city in April 2012, swiftly implementing a version of Islamic law which forced women to wear veils and set whipping and stoning as punishment for transgressions.
- 'Idolatrous' -
They considered the shrines, as well as priceless ancient manuscripts, to be idolatrous.
But in January 2013 they fled the city, driven out by a French-led international force which is still stationed in Mali but has failed to take control of remote northern reaches of the vast desert nation.
The reconstruction of the shrines, which began in 2014, relied heavily on traditional methods, generating local jobs on the site some 1,000 kilometres (600 miles) northeast of the capital Bamako.
To make sure the rebuilt shrines matched the old ones as closely as possible, work was checked against old photos and local elders were consulted throughout the process -- an important step in a city where culture has traditionally been passed on by word of mouth.
"It's a powerful symbol of peace," said Sane Chirfi, representing the family which looks after the mausoleum of Alpha Moya, one of the first to be destroyed by the Islamists.
"The shrines are symbols of gathering and togetherness, because among Timbuktu's saints, there are saints of all ethnicities."
UNESCO director-general Irina Bokova, who visited Timbuktu in July last year, warned in a message that "the dangers were far from over."
But seeing the buildings restored proved that "unity is possible and peace is strong," she said.
The rehabilitation project, which includes the restoration of thousands of manuscripts, is being funded also by the World Bank, the European Union, Switzerland, and the US Agency for International Development.
The entire scheme was expected to last four years and cost $11 million (10 million euros). afp