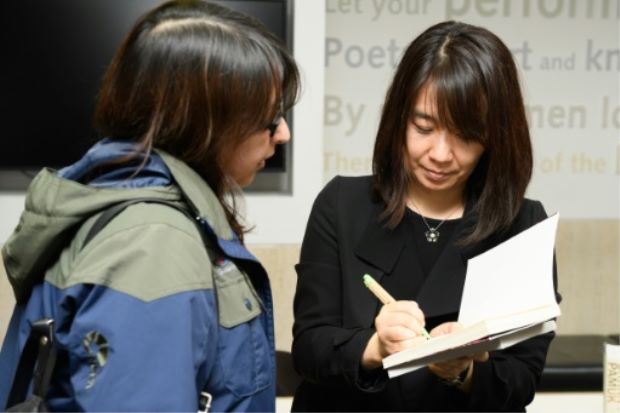 South Korean author Han Kang won the Man Booker International Prize on Monday, sharing the £50,000 ($72,000, 63,500 euros) award with her translator -- who had only taught herself Korean three years before.
Han Kang, 45, an author and creative writing teacher who is already successful in South Korea, is likely to enjoy a spike in international sales following the win for "The Vegetarian".
"I'm so honoured" she told AFP. "The work features a protagonist who wants to become a plant, and to leave the human race to save herself from the dark side human nature.
"Through this extreme narrative I felt I could question... the difficult question of being human."
She was the first South Korean to win the prize.
Described as "lyrical and lacerating" by chairman of the judges Boyd Tonkin, the tale traces the story of an ordinary woman's rejection of convention from three different perspectives.
It was picked unanimously by the panel of five judges, beating six other novels including "The Story of the Lost Child" by Italian sensation Elena Ferrante and "A Strangeness in My Mind" by Turkey's Orhan Pamuk.
"This is a book of tenderness and terror," Boyd told guests at the award ceremony dinner at the Victoria and Albert Museum in London.
Han Kang's first book to appear in English, "The Vegetarian" was described by newspaper The Guardian as a shock to the system.
"Across the three parts, we are pressed up against a society's most inflexible structures -- expectations of behaviour, the workings of institutions -- and we watch them fail one by one," Daniel Hahn wrote in a review.
- 'Climbing a mountain' -
For the first time this year, the award went jointly to the translator, Deborah Smith, 28, who only started learning Korean three years before she embarked on the translation.
"This was the first book that I ever translated, and the best possible thing that can happen to a translator has just happened to me," an emotional Smith told AFP.
"When I was 22 I decided to teach myself Korean… I felt that I was limited by only being able to speak English. I'd always read a lot of translations, and you get the sense of this whole world being out there, very different perspectives, different stories," she said.
"It felt as thought I looked up almost every other word in the dictionary. It felt a bit like climbing a mountain. But at the same time just falling into this world that was so atmospheric and disturbing and moving -- it was a wonderful experience."
The international edition of Britain's Man Booker Prize was introduced in 2005 and up to now has been awarded in recognition of a body of work by a living author whose work was written or available in English.
But from this year, it will be presented annually for a single work of fiction that has been translated into English and published in Britain.
Once the poor relation in the English-language literary world, translations are becoming increasingly popular.
New research by Nielsen for the prize organisers revealed physical book sales of translated fiction in Britain rose 96 percent between 2001 and 2016, despite the market as a whole falling over that period.
Translated fiction is still a very small genre, representing just 1.5 percent of fiction and 3.5 percent of literary fiction, but it provided five percent of fiction sales and seven percent of literary fiction sales last year.
Growth in translated Korean fiction in Britain was particularly strong. - AFP